Shopping Cart
Your Cart is Empty
There was an error with PayPal
Click here to try again
Thank you for your business!
You should be receiving an order confirmation from Paypal shortly.
Exit Shopping Cart
LETTING PATIENCE HAVE HER PERFECT WORK
You know that old picture of the young girl with a daisy, plucking petals and sighing, "He loves me" for one and "He loves me not" for the next? I just figured out what that means!  
That was originally a teaching tool, preparing our little girls for making the right choice for marriage! Just think if all women everywhere knew in their heart of hearts that it was their privilege, right and DUTY to choose the one man who loved them for their husband. WOW!  Then they would behave in their daily talk and walk like nobility!  Full of charity yet still head held high and tits up, as a beautiful grey-headed survivor of domestic violence once advised me. We would have no divorce because we would have no abuse because we would have no women willing to put up with hate. We would have no fighting, none whatsoever, because we would have no discord. When a man loves a woman, he takes every moment and every interaction as an opportunity to fulfill his mission in life... which is to love a woman into being all that she can be. And if a man doesn't already know that, there's nothing a woman can do to change his heart.
I have found a man who is loving me!   I cannot tell you how refreshing this is!  I am free to be me!  I am free to make mistakes!  I am free to be beautiful!  I am free to speak my mind!  I am free to be kind, gentle, respectful and loving just as I was designed to be!  I am free to be creative and caring, nurturing and organized, capable and normal, curious and ignorant, powerful and weak.  I am free!  
If you know any young girls, do your duty. Take your young friend aside and instruct her that she has choices to make in her future. Teach her what the bible really teaches: that a good woman reserves to herself the joy of uniting with the one wise, kind, peacemaking gentleman who is tested over time and anointed by Yahweh to be her KING. Because everyone who acts like a princess is destined to be a QUEEN!!!!!! 
Freedom. Do we live in the state of true freedom? Do we want to? 
I know I want to be free to be me, the me that I was designed to be. 
Today my Heavenly Father healed me supernaturally, 
and led me into more freedom than I thought possible just 12 hours ago!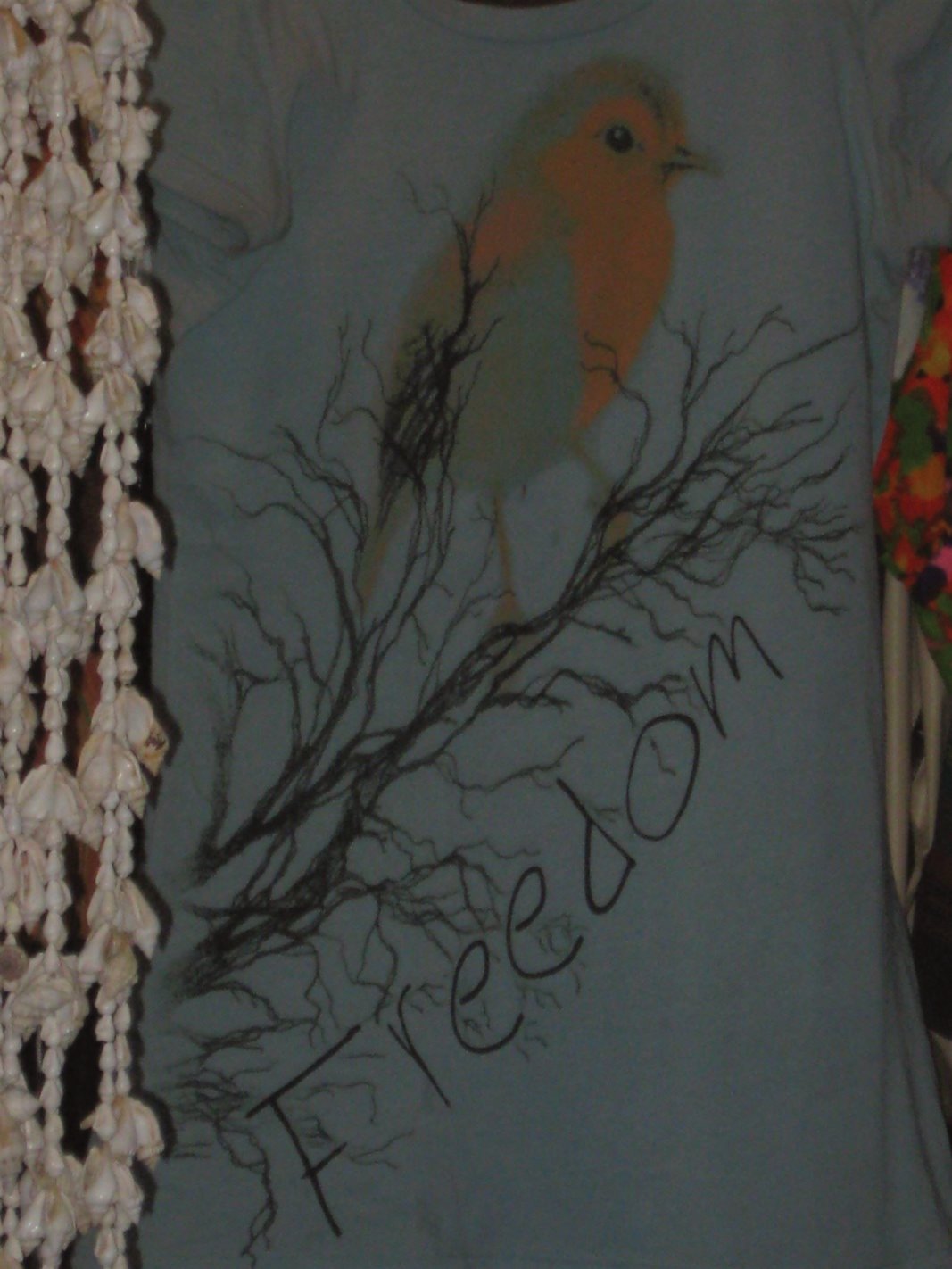 I was praying to Him from my bed, and reading the scriptures that His Holy Spirit inspired. Matthew 10 quotes Yeshua, the savior of this world, instructing me that if I do not love Yahweh more than my parents then I am not worthy of Yahweh. Plus, He said He came to put a man at variance with his daughter. So, I told Yah from my bed that the challenges to me seemed complex and overwhelming. Forgive my parents, honor them, love them, detach from them, accept the variance between us all, and even shake the dust off my feet if they do not receive my peace. All that is so hard when I, on my own, have no idea how to love them. I told all this to the Holy One of Israel, knowing that I am His daughter and that He wants me to confide in Him so He can help me. 
Well, help me He did! I stared for awhile at the sweet bird of freedom on the slate-blue T-shirt that my beautiful sister gave to me. I relaxed, knowing that somehow Yah was working all things for good. Then I read today's devotional, which challenged me to adore and revere and pray for the SPIRIT OF WHOLENESS, and it quoted Psalm 124:7... WE HAVE ESCAPED LIKE A BIRD FROM THE SNARE OF THE FOWLERS; THE SNARE IS BROKEN AND WE HAVE ESCAPED!  The devotional went on to challenge me to imagine Yah's love for those I fear, and to pray: Yahweh, be with us. Be with them. May we all escape hatred's trap. 
Wow, can I tell you how praying that one little prayer opened the way for Yah's Holy Spirit to come work in my heart this morning? I anointed my right toe, right thumb and right ear with Oil of Hyssop and prayed for Him to restore a right spirit in me, and then I anointed my feet with a lovely blend of essential oils from
Rocky Mountain Oils
called TRANSFORMATION and
I repented
of expecting anything from my parents and of all the anger built up after each dashed expectation. With total forgiveness and unconditional love I invited Yah's Holy Spirit to transform every physical, mental, emotional and spiritual problem and inappropriate behavior based on my old anger. I chose to accept the chasm between me and my parents. I chose to stand strong with Yahweh as my eagle, supernatural healer, lover, guide, king, master, friend, provider, defender, husband, father and comforter. I chose to feel at peace about asking Yah to defend me in every situation, and to feel confident that I am a worthwhile human being and I deserve to come to my own defense as He guides me in each moment. I chose to honor my parents as Yahweh guides. I chose to love my parents in the ways of kindness and truth. I chose to accept the new program that Yah has worked in my brain and my body, believing that the
Oils were anointed to reprogram me
at the very DNA level and that His ways would become my ways as I willingly submitted to His transformation in my soul.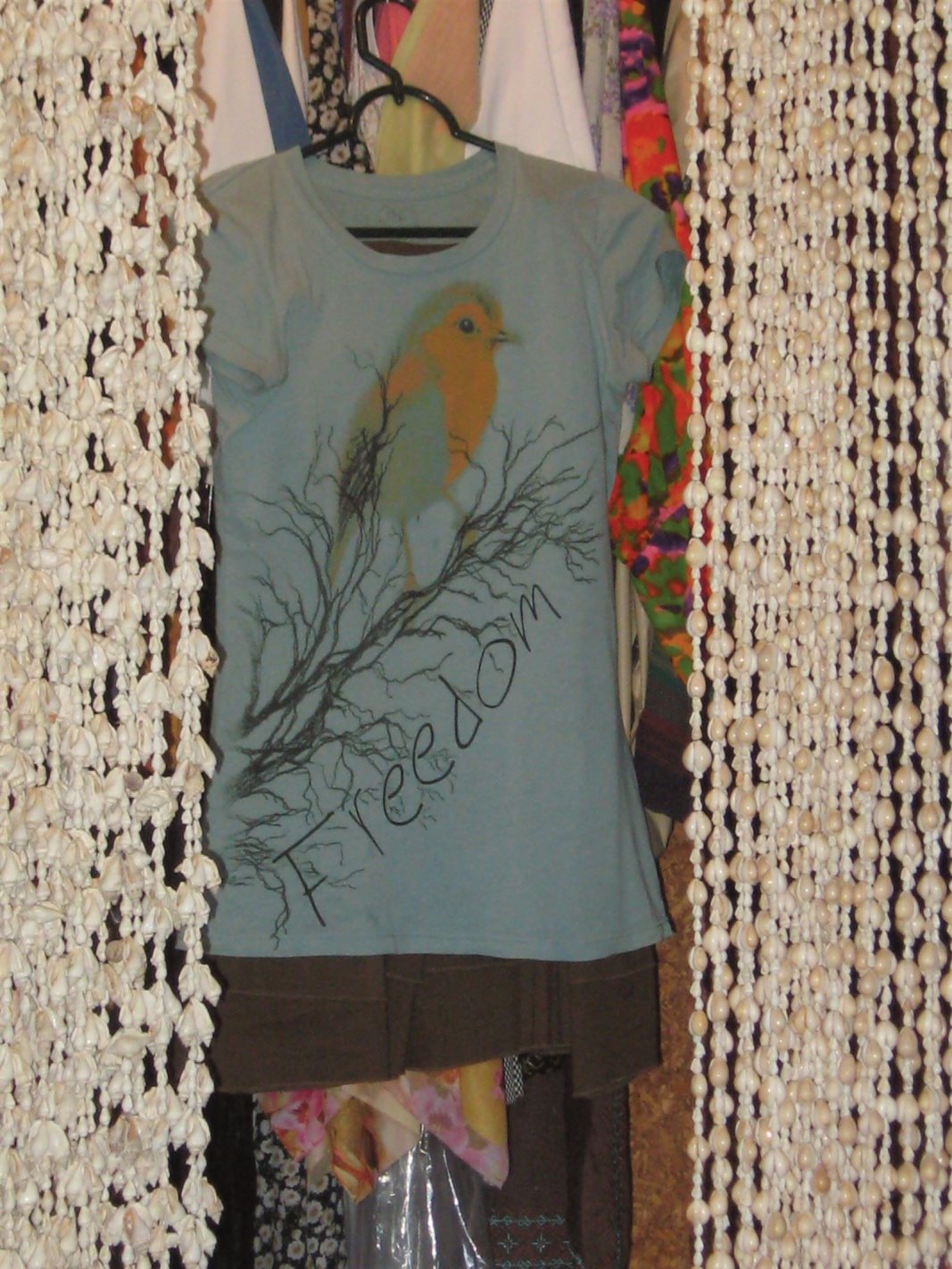 I am forgiven! I am healed! It is done! The transformation is finished, because Yeshua took stripes for me (Isaiah 53:3)! 
I am free to walk forward, to run and not grow weary, to leap on hinds feet, to fly on My Eagle's Wings! Thank You Yahweh! Thank You Yeshua! You have made all this possible by Your death and resurrection! 
HalleluYah! 
I am FREE! 
By the way, for anyone who feels this is all too private and that it shouldn't be shared publicly, I shall quote Yeshua, from Matthew 10:27... WHAT I TELL YOU IN DARKNESS, SPEAK YE IN LIGHT; AND WHAT YE HEAR IN THE EAR, PREACH YE UPON THE HOUSETOPS! 
Yahweh works supernaturally through His son's lovingkindness and judgment, which is found not only in every word on every page of scripture, but in all things... even the gifts of sisters that usually hang in their proper place but since I wore the outfit just yesterday, it just so happened to be hanging directly in line-of-sight this morning, which is the very morning that I was blessed to read Psalm 124:7...
We have escaped like a bird from the snare of the fowlers; 
the snare is broken and we have escaped! 
/